Free of phthalate plasticizers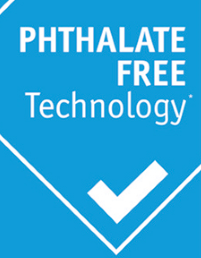 CuttingmatsXXL uses a material called Soft Vinyl, a complex composition of element which make it strong, transparent and flexible. The flexibility is given by plasticizers called Phthalates, incorporation in basic formulas. Phthalates have been used for many years. Their possible negative impact on human health and the environment has been a subject of several studies and contradictory regulations.
In order to be active in the protection of our customers and our environment CuttingmatsXXL uses a non-phthalate soft vinyl range. These are also used in toys, children articles, food contact material and medical devices. The NON-PHTHALATE plasticizer we use now will guarantee to the end-users the safest soft vinyl sheets.
Our label "NON-PHTHALATE" will give you the assurance that our soft vinyl is the best choice for human health and environment protection.
Our cuttingmats have been tested according to European Union assesment, find below the result of our positive result.